Drip, Drip, Drip you feel the cold wet, and musty-smelling drops landing on your face. You already slept through your alarm so this is causing you to wake up not only confused but more frustrated. You notice a wet spot on your ceiling and realize that the rainstorm last few nights must have exposed a hole in your roof. It sounds like it may be time to call an Amish Roofing contractor.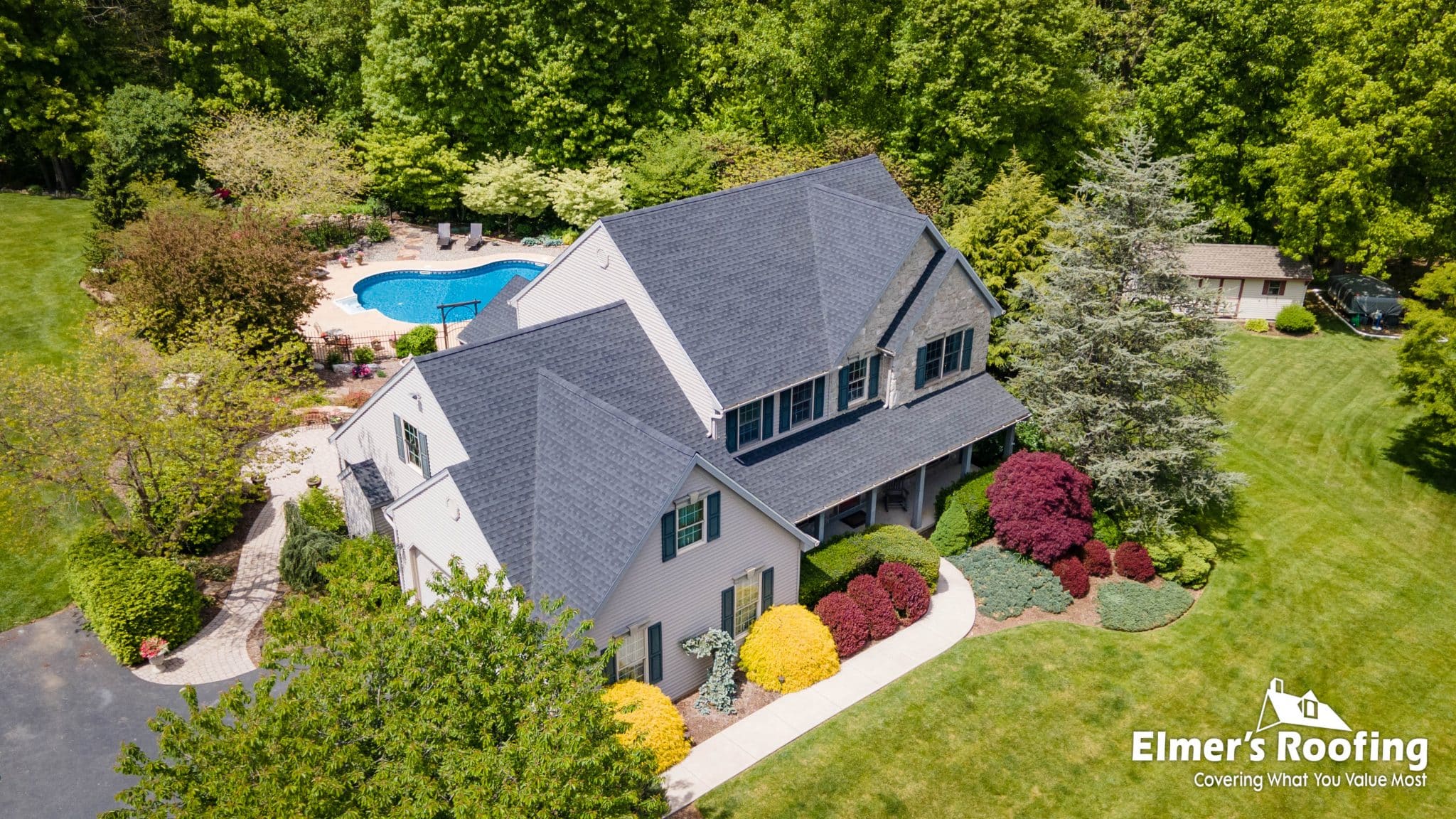 What is an Amish Roofing contractor?
As Amish roofing contractors, we promise to give you a reasonably priced product with the hard work you would expect. Are you looking to avoid all the traps of contractors that do not put their best foot forward? As an Amish roofing contractor, we let you avoid the hassle of all these kinds of companies. From the cheaply done competitors, the smooth-talking salesman, and the overly expensive showy company (seriously who cares if they did a roof on a football player's house?). Amish roofing contractors do the quality work you want at a reasonable price. We want you to be satisfied with our product and know that we stand by our slogan of covering what you value most.
How much do Amish Roofing Contractors cost?
When looking to hire an Amish Roofing Contractor you are probably looking for how much the project is going to cost. While all projects are different we are happy to have one of our Amish roofing contractors come out to your property and give you a quote. You can request this free service like that here.
Where do your Amish roofing contractors service?
When you begin to look for an Amish roofing contractor you want to make sure that they will come to where you reside. Many times, Amish roofing contractors work within a selected area of where their business is located However, Elmer's Roofing will travel to the tri-county area of Lancaster, Chester, and Berks counties all located within PA.
Are all of your contractors actually Amish?
Yes! 100% of the contractors on our team are Amish. This makes us a select company that can truly bring the experience and expertise that you have come to know with Amish roofing contractors. The only people you may say who are not Amish are the drivers waving to you as they leave the work crew there for the day.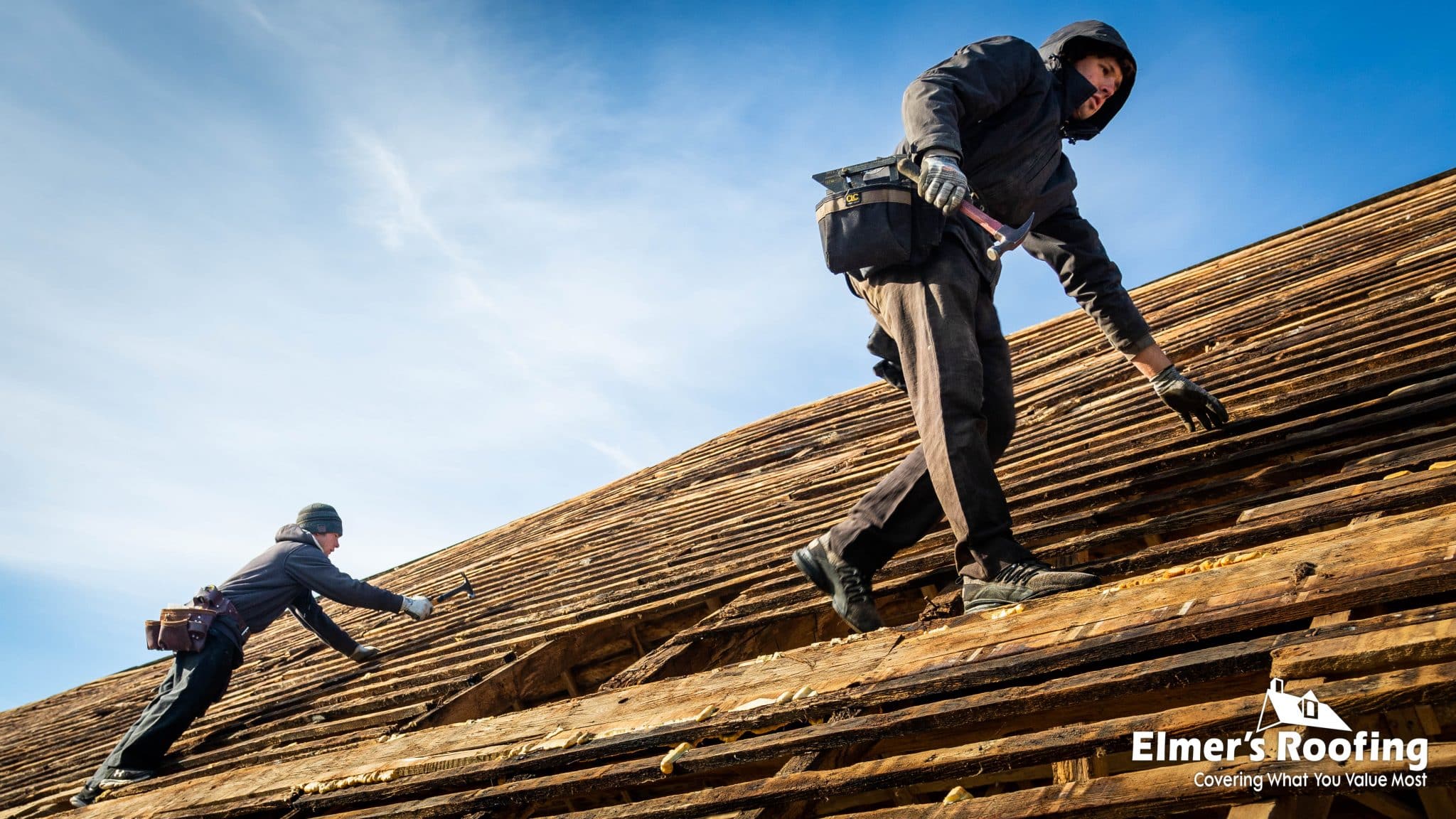 How do Amish Roofing Contractors install a roof on my property?
When a quality Amish Roofing contractor comes to your property they should be establishing roofing solutions that will last you for years if not a lifetime. We do this by following our tried and true 6 step process.
Place a Leak Barrier – This layer will protect your roof from strong winds and ice buildup.
Roof Deck Protection – By placing this cover on top of the plywood it will prevent excess moisture from seeping in and rotting out the wood.
Starter Strip Shingles – Placing down starter strip shingles will prevent your asphalt shingles from being blown away!
Lifetime Shingles – These stylish designed shingles will be put into place to protect what you value for a lifetime.
Attic Ventilation – By providing proper ventilation to your attic we reduce the moisture in this space allowing for the items you store in there to be completely protected.
Ridge Cap Shingles – This final touch provides unparalleled style and protection from leaks at ridge points on your roof.
By having an Amish roofing contractor install a roof to this standard, you can trust that it will give you peace of mind in the way that it protects your home.
How do Amish roofing contractors care for my property?
When you bought your home you spent years getting it to the point that it is today. Every weeknight you go out to pull the weeds that are coming up in the flower beds. Every weekend you spend hours with the lawn-striper on your lawnmower to give it that manicured golf course look and feel.
When an Amish roofing contractor comes to your home you may feel very nervous, Nervous that the equipment is going to be loud, but even more nervous that the installers may not even be noticing all the work you have put into making this house a home!
That is why a high-quality Amish roofing contractor, like Elmer's Roofing, takes special care of your property. We treat your property as if it were doing the project on our own property. The flower beds that you work on, not only do we notice them but we may strike up a conversation about what you are growing. That lawn you finally were able to get rid of all the crabgrass in, we noticed that, and we will work meticulously to keep it looking as nice as when we arrived.
Are you worried that your Amish roofing contractor won't have the equipment to keep your house looking nice? Are you fearful that they will have ladders leaning against your home causing undue damage? We prevent unneeded damage to your house by using a hydraulic lift dumpster that goes up to the side of your house and can easily catch all the debris that we create.
What about the incidental pieces of debris that are created with such an undertaking? At the end of each day, we make sure that our team of Amish roofing contractors clean your gutters so you don't end up with any unneeded or unwanted materials on your property.
We have all heard the horror stories of how someone had a roofing company come and then they ended up with flat tires because of the materials that were in the driveway. As a premier Amish roofing contractor, we end each day by using a heavy-duty magnet. This magnet is used to go around the property so that we can collect every piece of the materials that are hard to see with the naked eye. Leaving you to be at peace with a job not only well done, but one well cleaned up.
Are Amish roofing contractors licensed?
When hiring an Amish roofing contractor you want to make sure that they are a legitimate business. One way that we proudly show that we are a legitimate business is by being a fully licensed service provider. Our licensing number can be found on our homepage but just in case you were wondering the license number for our Amish roof contracting business is PA# 118414.
What roofing material do Amish roofing contractors use?
When making an investment in a new roof you want to make sure that your Amish roofing contractor is not using cheaply made materials. Nobody wants to spend the money they make on a poor job. That is why our Amish roofing contractors use only GAF shingles. GAF shingles are not only used on 25% of homes in the USA but they are manufactured locally in Lebanon County PA. It is not often you are able to support 2 local businesses at once, but when you partner with us you are able to do just that.
Will an Amish roofing contractor let me pick the color of my roof?
When you begin the process of purchasing a replacement roof for your home we want your project to look the way you hope for. Leave the hard work to our contractors and enjoy the fruits of their labor. We have a wide selection of colors to choose from and our design experts are more than happy to assist you with the selection of your product.
Why should I choose an Amish roofing contractor over someone else?
When you want a job well done, at the price you're told and in the time frame you are promised, who comes to mind? Maybe your dad? A grandfather? Perhaps someone else close to you? When you partner with an Amish roofing contractor we implement our strong family values of trust, hard work and diligence to every project. This makes working with an Amish roofing contractor simple, and easy. Which is what you wanted in the first place!
The answers are very compelling. Our all Amish roofing contractor crew will take care of your project as if we were doing it for our own family. The supplies we use are top of the line and will leave you with a quality, affordable product to enjoy for years to come. Take a look at our gallery of successfully completed projects or take it a step further and view our customer testimonials. Maybe you are ready to take the plug so call us for a free estimate!

Here, at Elmer's roofing, we stand by our values and the promise of covering what YOU value the most!